Biography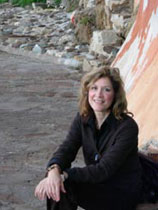 Lenore Walker's journey towards creating fine art has been a winding path. After completing her master's degree & working in church ministry, she turned her attention to pursuing more creative venues in 1992. Certified & trained in Old World decorative painting, she employed herself in creating environments for residential and commercial clientele. This work gradually evolved into an increasing desire to focus on creating fine art works in a variety of styles and media.
In summer of 2004 she began focusing on contemporary abstract/expressionist and experimental painting, honing her understanding of acrylic media, glazing techniques and abstracting landscapes and has studied under the direction of many accomplished fine artists. Lenore uses a variety of tools and media to achieve richly layered colour and textural dimension which result in intensely vibrant & mysteriously luminous paintings.
This "intense tranquility" as she describes it, comes from knowledge of the physical properties of her media & the "wonder of the random factor" in which the layers interact with one another in sometimes unpredictable ways. The product is an intriguing combination of restraint and spontaneity which reveals the artist's thoughts, feelings & experiences as a visual journal of creative spirit and Spirit.
She has successfully shown & sold her work in many venues throughout Ontario and is a member of the Niagara Pumphouse Art Centre, Fort Erie Arts Council and the Society of Layerists in Multi Media in the U.S. Her works grace private collections in California, British Columbia, Alberta and Ontario. She is also an avid art instructor & creativity coach providing workshops and seminars through her studio as well as art galleries. A native of the Niagara region Lenore currently resides in St. Catharines, Ontario. You can view more of her work at www.absolutearts.com.
I am a "maker" type of creative and a bit of a mystic. I enjoy the process of experiencing the media I use through physical touch, movement, using various tools, thinking, envisioning, feeling and sensing the mystery of spirit as I explore, create & communicate through colour, texture, pattern & composition. I am always fascinated and excited by what happens when glazes of colour and/or textured media are built up.
The wonder of colour is a "constant" for me and I take great delight in mixing, blending and shaping glazes on the painting surface. I have found the process to include broad strokes of daring and deliberate, delicate touches which I believe characterize many things about life in general. My paintings often have the effect of causing people to feel embraced by vivid colour and held by a sense of peace, allowing them to leave the experience of viewing the painting with a feeling of rejuvenation.
I find it very gratifying to be able to create paintings which are "gateways" or "pauses" for people because I undergo much the same experience when I am creating them. I believe Indira Ghandi's words resonate best as a descriptor of my art; "…vibrantly alive in repose". Thank you for being generous enough to travel with me to that place as you view my work.
- Lenore Walker